To be released in December, 2020.
There is a plethora of long overdue sequels and unwarranted ones constantly hitting the box office with the sole aim of milking that precious nostalgia. They come in the form of the aforementioned sequels and, also, in spinoffs, remakes and reboots.
This January alone, we've had Dolittle and Bad Boys for Life and there is more coming: Mulan, The Invisible Man, The Grudge, Brahms: The Boy II. Not to mention the decade-old films getting do-overs currently in production like Matrix with the original cast, Blade with Mahershala Ali, Candy Man, another Child's Play, even a whole new cast for The Chronicles of Narnia as well as Home Alone, I Know What You Did Last Summer, Mortal Kombat, Depp-less Pirates of the Caribbean, Resident Evil, Shrek, Van Helsing, after five sequels' Wrong Turn, Zorro Reborn and like a hundred more. 
Every movie nerd have at least seen half of the above listed films. Why Hollywood is redoing beloved classics is a discussion I don't want to have but we can take it one at a time.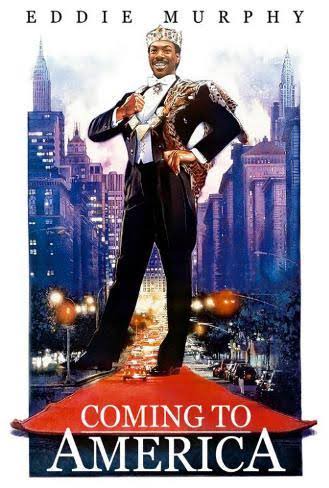 It's virtually impossible to make a list of classics without mentioning the romantic comedy king (or prince) of the 1980s, Coming to America. The 1988 hit starring Eddie Murphy as Prince Akeem, the heir to a fictional African nation, Zamunda, has inspired at least two recognized remakes and even kickstarted the careers of few of today's A-listers like Samuel L. Jackson.
If you don't remember, let me brush it up for you: Prince Akeem and his confidant Semmi (Arsenio Hall) leave Zamunda for New York to find a bride for Akeem as he's obsessed with looking for a woman who loves him for "who he is not what he is" and he finds and pursues already-taken Lisa. (You're not the only one thinking that story might be problematic in today's Hollywood but thank God.)
Murphy went on to star in a mammoth of blockbusters before disappearing from the public eye some seven, eight years ago. Until now. 
By now, if you haven't seen Dolemite is My Name, I don't know what you're waiting for. Murphy's comeback performance was released on Netflix in October 2019 and still receives awards buzz till this day. I described Dolemite as a film about:
"…a failed showman who defied logic to be the benchmark for future record breakers… and as far as biopics goes, it's one of the most scintillating pieces in the genre with grand storytelling and stylish motion direction that is heavily infused with moral lessons of resilience, perseverance, hard work and patience. Eddie Murphy's performance is one for the ages and highlights that he "still got it." Thoroughly fun and aesthetically beautiful, it finds its place in the box of black, funny and thoughtful movies and manages to outshine some."
Dolemite was directed by Craig Brewer who will be shepherding this sequel, which is currently dubbed Coming 2 America. The returning cast members include Murphy (as Prince Akeem as well as the other characters he played in the first film adding an "old farmer"), Hall (Semmi, and other makeup transformed roles), Shari Headley (Lisa McDowell), John Amos (Lisa's Father and Akeem's former employer), Paul Bates (Oha, the loyal servant) and James Earl Jones (King Jaffe). Madge Sinclair, who played Akeem's mother in the first film, Queen Aolean, died in 1995. Her character will not be recast.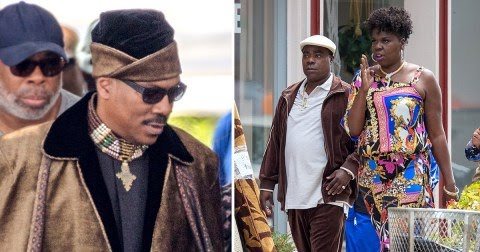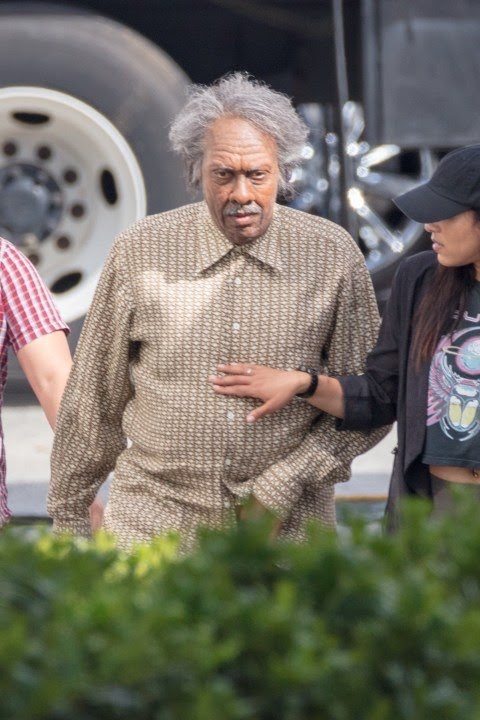 Photos from the set of the sequel.
What's it gonna be about?
"Set after the events of the first film, former Prince Akeem Joffer (Eddie Murphy) is set to become King of Zamunda when he discovers he has a son he never knew about in America – a street savvy Queens native named Lavelle (Jermaine Fowler). Honoring his royal father's (James Earl Jones) dying wish to groom this son as the crown prince, Akeem and Semmi (Arsenio Hall) set off to America once again."
The sequel was first announced in January 2017. 58 years old Murphy who made hit movies in the 80s and 90s has made just two films in the past eight years. He told EW he was tired.
Dolemite won Murphy Best Actor at the AAFCA Awards, and the film won Best Costume Design and Best Comedy at the Critics' Choice Movie Award and a load of others. He admitted that he's been sitting on his couch for way too long and now he's back to make us laugh.
Filming began in August 17, 2019 and wrapped in November 2019. Rick Ross' Georgia mega mansion was used for filming and maybe that explains why he has a starring role. Also starring are Wesley Snipes (who you can also find on Dolemite Is My Name) as General Eazie, Leslie Jones, Tracy Morgan, Morgan Freeman, Teyana Taylor, and Davido.
The screenplay is by original writers David Sheffield and Barry Blaustein, joined by Kenya Barris who has had his hand in everything this past few years from Girls Trip to Shaft, to Little to the Blackish TV universe.
Coming to America made $288 million on a $39 million budget and received two Oscar noms for Best Costume Design and Best Make-Up. To be released December 18, 2020, we can only hope Coming 2 America lives up to its predecessor and even surpass it on many levels.