Word on street is that Shiloh is that end of the year event where single ladies in dire need of a life partner troop to, in hope of making their request known to God. In fact, if you start having dreams of you walking up the aisle or dancing at your engagement ceremony, "dem don carry your picture reach Shiloh be that." But the street will say whatever. In stark reality, the annual Shiloh gathering at Living Faith Church's Canaanland in Ota, Ogun State – particularly the 2019 edition – is the biggest event of the year.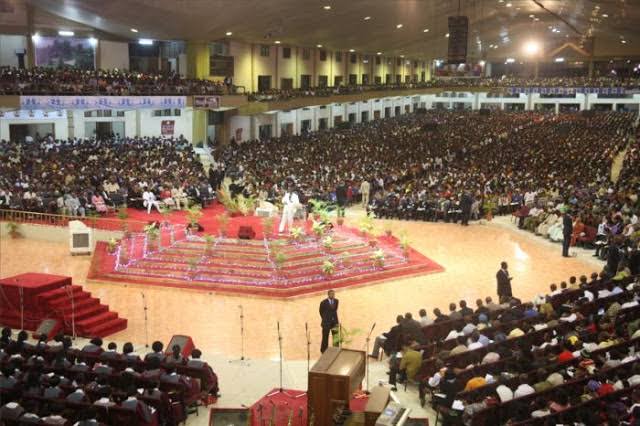 If being held at one of the largest auditoriums in the world isn't enough, I don't know what is. The 50,000 capacity Faith Tabernacle spilled into an overflow almost twice the inside. In one line, the quintessential gathering of multitudes.
Themed "Breaking Limits," it is one of many end-of-year Christian events held in December. In a program-stuffed 5-day encounter, it effortlessly stood out even among a vast array of secular events that culminated into "Detty December." To top it all, an open invitation was thrown out. 
Too big to go unnoticed, dignitaries showed up. From politicians, to diplomats, to kings – seeing royal heads of various Nigerian communities clad in their kingly garments dancing and singing praises to God is one of the countless beautiful sights at the event. Their names were reeled out by Bishop David Abioye, the Vice President of Living Faith Church (LFC) worldwide in a move that makes this the largest gathering of diametric dignitaries in one event.
In particular Shiloh tradition, you can be a part of the iconic services from any location in the world and there is a live broadcast to all LFC churches worldwide. The intermittent interpolation of churches, aptly christened 'viewing centers,' in Northern Nigeria, Europe, North America, far Australia and a vast others in the broadcast and on screens in the headquarters is more than refreshing: it is instinctively divine to see other nations around the world turn up to Jehovah and subtly educative to see daylight in Winnipeg (Canada) while our crickets had already resumed duty. And in the spirit of breaking limits, churches of other denominations gloriously tapped into the broadcast. In other words, Shiloh 2019 pulled the entire world to itself in ways no other event could.
There were 7,000 registered foreign delegates from 54 countries on ground at Canaanland; over 18 million people connected via Facebook; and a gazillion of testimonies. On two occasions, a seemingly ad hoc interpreting team was formed for testifiers who shared their testimonies in French. On one occasion, a musical team from Delta State serenaded the world to classic Christian Urhobo tunes. There were waving of white handkerchiefs, stomping of feet and breaking of backs.
Speaking of waves, on the last night, every foreigner who made their way to Canaanland were invited to the front. They marched out in style. Brandishing their individual nation's flags on poles, they waved! And, from a drone view, it felt like every single country in the world came out to praise Jesus.
Shiloh 2019 was not just big, it was the biggest. One wouldn't expect less from an event graced by God. In an era where pervasiveness only exists in hashtags and Christian establishments constantly embroiled in sentimental media trials, Shiloh 2019 lived up to its name.
This piece was originally a submission for a writing contest.